A new law is set to be introduced to transform the Colombo Port City into a Financial Zone , President Ranil Wickremesinghe revealed today (26 Sep.). MORE..


26 Sep 2023 (3:03 PM)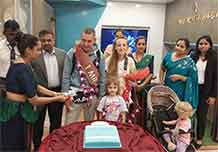 Sri Lanka has welcomed the arrival of its one millionth tourist for 2023 today (26 Sep.), with the arrival of a Russian couple, Sri Lanka Tourism reported. MORE..


26 Sep 2023 (5:41 PM)



Budget proposals for the year 2024 are due to be presented before the Parliament on 13 November by President Ranil Wickremesinghe, in his capacity as the Minister of Finance, Economic Stabilisation and National Policies. MORE..


26 Sep 2023 (1:56 PM)



The excise officers have been suspended over their involvement in the abduction and assault of a Beedi manufacturer in Walasmulla area and their attempt to solicit a bribe. MORE..


26 Sep 2023 (6:46 PM)



A fundamental rights (FR) petition has been filed before the Supreme Court, challenging the government s Domestic Debt Optimization (DDO) program. MORE..


26 Sep 2023 (5:38 PM)