U.S. Secretary of State Antony Blinken and South Korean, Japanese counterparts expressed "serious concern" over the discussion of military cooperation between Russia and North Korea, including possible arms trade, South Korea s Foreign Ministry said on Saturday. MORE..


23 Sep 2023 (9:54 AM)



Minister of Power Energy Kanchana Wijesekera on Thursday (Sept. 21) held constructive discussions with the officials of the International Monetary Fund (IMF) and the World Bank with regard to reforms in the energy and power sectors. MORE..


23 Sep 2023 (1:24 AM)



The People s Action for Free and Fair Elections (PAFFREL) has claimed that the recent decision made to cancel the nominations submitted for the Local Government (LG) elections is likely to incur a loss of over Rs. 1 billion to the state. MORE..


23 Sep 2023 (2:12 PM)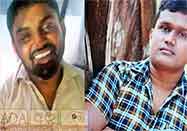 Sri Lanka Police have been granted a 72-hour detention order to question the two persons arrested on suspicion of aiding the police constable who was complicit in notorious criminal figure "Harak Kata s" recent escape attempt at the Criminal Investigation Department (CID). MORE..


23 Sep 2023 (4:47 PM)



Minister of Foreign Affairs Ali Sabry says Sri Lanka wants the Summit of Future in 2024 to bring forward an action-oriented outcome, through which member states, both in the North and the South, can better cooperate and respond to global challenges. MORE..


23 Sep 2023 (5:50 PM)