Finance State Minister Shehan Semasinghe says the restrictions imposed on imported goods, except vehicles, will be lifted in October. MORE..


23 Sep 2023 (1:22 PM)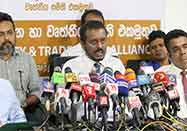 Director General of Trade Union Relations to the President Saman Ratnapriya has alleged that certain political factions are actively promoting racial conflicts in the country to further their own political agendas. MORE..


23 Sep 2023 (3:09 PM)



Two individuals have been arrested on suspicion of aiding the police constable who was complicit in notorious criminal figure and drug kingpin "Harak Kata s" escape attempt at the Criminal Investigation Department (CID) recently. MORE..


23 Sep 2023 (12:06 AM)



The newly established Governing Board of the Central Bank of Sri Lanka (CBSL) was held on Thursday (21). MORE..


23 Sep 2023 (10:30 AM)



The water supply for parts of Colombo will be suspended from 6-00 p.m. today (Sept. 23) until 6-00 a.m. on Sunday (Sept. 24). MORE..


23 Sep 2023 (9:36 AM)