Minister of Power Energy Kanchana Wijesekera on Thursday (Sept. 21) held constructive discussions with the officials of the International Monetary Fund (IMF) and the World Bank with regard to reforms in the energy and power sectors. MORE..


23 Sep 2023 (1:24 AM)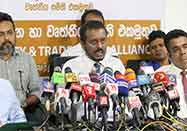 Director General of Trade Union Relations to the President Saman Ratnapriya has alleged that certain political factions are actively promoting racial conflicts in the country to further their own political agendas. MORE..


23 Sep 2023 (3:09 PM)



U.S. Secretary of State Antony Blinken and South Korean, Japanese counterparts expressed "serious concern" over the discussion of military cooperation between Russia and North Korea, including possible arms trade, South Korea s Foreign Ministry said on Saturday. MORE..


23 Sep 2023 (9:54 AM)



Finance State Minister Shehan Semasinghe says the restrictions imposed on imported goods, except vehicles, will be lifted in October. MORE..


23 Sep 2023 (1:22 PM)



Over 2,000 dengue cases have been reported for the month of September thus far, the National Dengue Control Unit (NDCU) reported. MORE..


23 Sep 2023 (6:34 PM)