Showers will occur at times in Western and Sabaragamuwa provinces and in Galle and Matara districts today (Sept. 23), the Meteorology Department says. MORE..


23 Sep 2023 (8:37 AM)



The People s Action for Free and Fair Elections (PAFFREL) has claimed that the recent decision made to cancel the nominations submitted for the Local Government (LG) elections is likely to incur a loss of over Rs. 1 billion to the state. MORE..


23 Sep 2023 (2:12 PM)



Over 2,000 dengue cases have been reported for the month of September thus far, the National Dengue Control Unit (NDCU) reported. MORE..


23 Sep 2023 (6:34 PM)



Sri Lanka Railways has reportedly reached an agreement with the Locomotive Engineers Union, pertaining to the existing issued faced by the unions, following a discussion. MORE..


23 Sep 2023 (1:57 PM)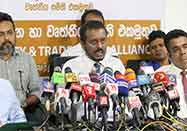 Director General of Trade Union Relations to the President Saman Ratnapriya has alleged that certain political factions are actively promoting racial conflicts in the country to further their own political agendas. MORE..


23 Sep 2023 (3:09 PM)