A new law is set to be introduced to transform the Colombo Port City into a Financial Zone , President Ranil Wickremesinghe revealed today (26 Sep.). MORE..


26 Sep 2023 (3:03 PM)



The Colombo District Court today (26) suspended the interim injunction preventing the implementation of a letter issued by the chairman of the Sri Lanka Freedom Party (SLFP), former President Maithripala Sirisena to Dayasiri Jayasekara, who was recently ousted as the party s General Secretary. MORE..


26 Sep 2023 (4:17 PM)



National Water Supply and Drainage Board (NWSDB) states that issuing electronic water bills instead of printed bills will commence from October 01, 2023. MORE..


26 Sep 2023 (2:10 PM)



The Speaker of Canada s House of Commons, Anthony Rota, has apologised for praising a Ukrainian man who served in a Nazi unit during World War Two. MORE..


26 Sep 2023 (4:49 PM)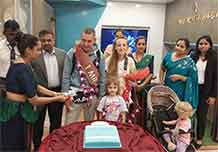 Sri Lanka has welcomed the arrival of its one millionth tourist for 2023 today (26 Sep.), with the arrival of a Russian couple, Sri Lanka Tourism reported. MORE..


26 Sep 2023 (5:41 PM)