PM Dinesh Gunawardena has urged the Asian Development Bank (ADB) to initiate new projects on areas such as renewable energy, digitalization, and public transport systems, especially the railways. MORE..


4 Oct 2023 (10:29 AM)



Litro Gas Lanka, one of the two largest Liquefied Petroleum (LP) gas suppliers in the country, is set to make an announcement pertaining to the price revision of domestic LP gas on Wednesday (04 Oct.). MORE..


3 Oct 2023 (7:20 PM)



Mohamed Uvais Mohamed, the chairman of the Ceylon Petroleum Corporation (CPC) Ceylon Petroleum Storage Terminals Limited (CPSTL), has stepped down from his posts. MORE..


4 Oct 2023 (2:24 AM)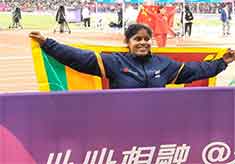 Sri Lanka s Nadeesha Dilhani Lekamge bagged a silver medal in the women s javelin throw, making this the first Asian Games medal Sri Lanka has won in Athletics for 17 years. MORE..


3 Oct 2023 (9:00 PM)



A handful of Republicans in the U.S. House of Representatives on Tuesday ousted Republican Speaker Kevin McCarthy, as party infighting plunged Congress into further chaos just days after it narrowly averted a government shutdown. MORE..


4 Oct 2023 (9:14 AM)