Over 2,000 dengue cases have been reported for the month of September thus far, the National Dengue Control Unit (NDCU) reported. MORE..


23 Sep 2023 (6:34 PM)



U.S. Secretary of State Antony Blinken and South Korean, Japanese counterparts expressed "serious concern" over the discussion of military cooperation between Russia and North Korea, including possible arms trade, South Korea s Foreign Ministry said on Saturday. MORE..


23 Sep 2023 (9:54 AM)



Commencing the National IT and BPM Week, the central event is slated for October 11, 12, and 13, 2023, at the Sirimavo Bandaranaike Memorial Exhibition Hall in Colombo, the President s Media Division (PMD) says. MORE..


22 Sep 2023 (11:23 PM)



The water supply for parts of Colombo will be suspended from 6-00 p.m. today (Sept. 23) until 6-00 a.m. on Sunday (Sept. 24). MORE..


23 Sep 2023 (9:36 AM)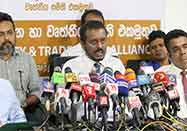 Director General of Trade Union Relations to the President Saman Ratnapriya has alleged that certain political factions are actively promoting racial conflicts in the country to further their own political agendas. MORE..


23 Sep 2023 (3:09 PM)