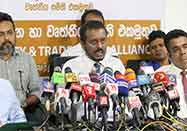 Director General of Trade Union Relations to the President Saman Ratnapriya has alleged that certain political factions are actively promoting racial conflicts in the country to further their own political agendas. MORE..


23 Sep 2023 (3:09 PM)



Two individuals have been arrested on suspicion of aiding the police constable who was complicit in notorious criminal figure and drug kingpin "Harak Kata s" escape attempt at the Criminal Investigation Department (CID) recently. MORE..


23 Sep 2023 (12:06 AM)



The People s Action for Free and Fair Elections (PAFFREL) has claimed that the recent decision made to cancel the nominations submitted for the Local Government (LG) elections is likely to incur a loss of over Rs. 1 billion to the state. MORE..


23 Sep 2023 (2:12 PM)



The water supply for parts of Colombo will be suspended from 6-00 p.m. today (Sept. 23) until 6-00 a.m. on Sunday (Sept. 24). MORE..


23 Sep 2023 (9:36 AM)



Minister of Foreign Affairs Ali Sabry says Sri Lanka wants the Summit of Future in 2024 to bring forward an action-oriented outcome, through which member states, both in the North and the South, can better cooperate and respond to global challenges. MORE..


23 Sep 2023 (5:50 PM)