The World Bank revised up its forecasts for Sri Lanka s economy on Tuesday, noting the crisis-hit nation had made strides in reducing inflation and had benefited from tourism revenue as well as an appreciation in its currency. MORE..


3 Oct 2023 (5:08 PM)



A batch of human immunoglobulin IV imported to the country in violation of the due process has been temporarily suspended from use, the National Medicines Regulatory Authority (NMRA) said today (Oct. 03).


4 Oct 2023 (12:29 AM)



Six people have sustained injuries in a crash in Beruwala which involved two buses, the police said. MORE..


4 Oct 2023 (1:11 AM)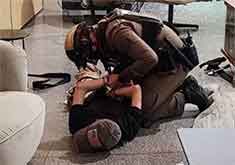 There have been reports of gunshots at a luxury mall in Bangkok s city centre, Thai police say. MORE..


3 Oct 2023 (6:00 PM)



Massive tremors were felt in Delhi today after two earthquakes in Nepal - one of magnitude 4.6 and the other of 6.2 - within 25 minutes of each other at a depth of 5 km. The first earthquake hit Nepal at 2-25 pm before being hit by the second at 2-51 pm. MORE..


3 Oct 2023 (5:13 PM)