The Sri Lankan Rupee has further depreciated against the US Dollar as the selling price hikes up to Rs 167.14 per US Dollar. MORE..


19 Sep 2018 (3:07 PM)



Professor Channa Jayasumana says that the mythical history created by racists in Sri Lanka has led to violation of human right in all Sri Lankans. MORE..


19 Sep 2018 (4:31 PM)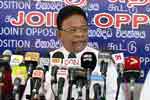 There is no other era in the Sri Lankan history, in which Sri Lankan Rupee consecutively depreciated three times just within a week and three years, claims the Joint Opposition. MORE..


19 Sep 2018 (7:06 PM)



Thirty individuals have been arrested under various charges during a 12-hour special search operation carried out within Matale district, centralizing on four police stations. MORE..


19 Sep 2018 (3:00 PM)



Sri Lanka has decided against giving control of Palaly Airport to India just days after the state-run Airport Authority of India made a move to develop it. MORE..


20 Sep 2018 (12:35 AM)