The Ministry of Finance and Media states that price hike of sugar will not be permitted as the international price of sugar has been drastically reduced due to excess sugar in the world market. MORE..


19 Sep 2018 (9:10 PM)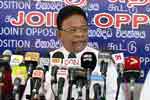 There is no other era in the Sri Lankan history, in which Sri Lankan Rupee consecutively depreciated three times just within a week and three years, claims the Joint Opposition. MORE..


19 Sep 2018 (7:06 PM)



The National Transport Commission (NTC) today announced the revised bus fares following the decision to increase fares in line with the recent fuel price hike. MORE..


19 Sep 2018 (6:51 PM)



The wholesale price of sugar will be increased by Rs 15 per kilogram with immediate effect, according to the Sugar Importers Association.


19 Sep 2018 (5:03 PM)



The overseas travel ban imposed on former Minister Rohitha Abeygunawardena, who is charged over the alleged illegal acquisition of assets, has been temporarily lifted by the Colombo High Court. MORE..


19 Sep 2018 (7:20 PM)